Decoding Kyoto Project 2008 The Sento - Japanese Public Bathhouses in Kyoto
Hinode-yu (日の出湯)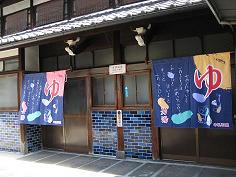 Hinode-yu is the old-style sento that was built in 1928 (the 3rd year of the Showa period). Passing through the noren you see a spacious dressing room which makes you feel the real atmosphere of Japanese tradition, not of a contemporary style. The reason for the very big dressing room is the structure of the suspended ceiling.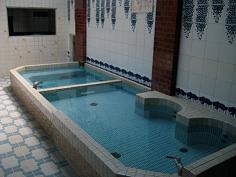 There are lockers with diamond-shaped glass, wisteria mats and willow baskets. There is even a body weight scale, which has been here since Hinode-yu was founded, and the scale indicates your weight in old Japanese numerals. Everything in Hinode-yu, right down to the shoe box keys made of wood, feels that old traditional Japanese flavor. In addition you can see a tiny Japanese style garden, tsuboniwa, filled with a certain Japanese charm that has been loved by the building's first owner.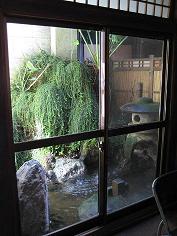 Hinode-yu has a variety of baths. There are deep and shallow baths, jet bath, electric bath, cold bath and steam sauna. Moreover, the owner holds shobu-yu in every June. More well-known yuzu-yu is also held every December. Hinode-yu is close to Toji Temple and a hotel that is used by backpackers. You should come to Hinode-yu at least once to enjoy this old feeling.
Business hours
PM4:00〜PM11:00
Closed
Thursday
Address
26-6 Karahashicho, Nishikujo, Minami-ku, Kyoto
Telephone number
075-691-1464
Access

5 minutes' walk from Kintetsu Line "Toji"
12 minutes' walk from JR Line "Kyoto"
5 minutes' walk from Kyoto City Bus
#207, #71, #18 "Tojihigashimonmae"
#202, #207, #208 "Kujokintetsu"

Locker for rental
YES (except long-term locker)
Available amenities

shampoo,rinse : 30 yen
towel (rental) : 20 yen
towel (purchase) : 230 yen

Parking lots
NO
URL
http://www.eonet.ne.jp/~hinodeyu/